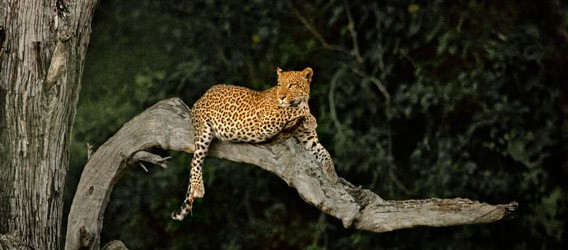 BEVERLY HILLS, Calif. – When we think of endangered species we think of the red wolf, the black rhinoceros or even the short-haired chinchilla – if we think of them at all. But people rarely consider the big cats.
Still, they are among that elite group of animals (along with man) who are just trying to make it through the night.
Nat Geo Wild will chronicle some of these lithe predators when it plays its own game of Hello, Kitty with "Big Cat Week," beginning Sunday.
One of the featured films will be "The Last Lions" by Dereck and Beverly Joubert, wildlife photographers and researchers who've been stalking the stalkers for 30 years.
"One of the alarming things for us, which was the sort of genesis of this film and this 'Big Cat Week,' actually, is that we discovered that in our lifetimes, lion numbers have dropped from 450,000 down to 20,000, and the leopard numbers are from 700,000 down to 50,000," says Dereck Joubert.
It's hard to believe, but more tigers are living in captivity today than in the wild.
"And by that sort of extension of curve, you will imagine these big cats to be extinct within the next 10 or 15 years," he says.
"So we are very definitely passionate about big cats. We've been working on this for a long time, but now is the time for us to bring it to the attention – what we're so excited about with the 'Big Cat Week' is that we found a broadcast on National Geographic that will actually give us an entire week and a platform to get this across, which is fantastic," he says.
The Jouberts were born in South Africa, but say they moved to Botswana because they "needed to go out into the real Africa. … I thought that the big cats would lead us into a greater understanding of the rest of Africa, and then we kind of got stuck there," says Dereck.
Why the big cats? Why not apes or crocodiles or prairie dogs? "They really are the iconic species in Africa," says Beverly. "Without saving the apex predator, we're going to lose vast tracts of land. If the apex predator is taken out of the system, the whole system will collapse. But also, man will move into the system, and man will eventually take every single animal out of there as bush meat. So we ultimately need to keep the apex predators alive so that we've got corridors for elephants, for antelope, and the tiny little dung beetles. It is vitally important."
Part of the "Big Cats Week" is the National Geographic's Big Cats Initiative (BCI), a long-term commitment to staunch the decline of these denizens of the wild. While cheetahs have disappeared from more than 75 percent of their range, the cheetah story offers a glimmer of hope, says Dereck Joubert.
"Cheetahs today came out of a genetic bottleneck of about 200 individuals and then grew back up to about 45,000 to 50,000. Today they're down around 12,000. But the fact that you can actually recover a species is what gives us so much hope, and we think that we can do exactly the same with lions and leopards."
"A lot of people don't believe there is even a problem, so they all feel, 'Why should we worry?'" says Beverly. "But through the Big Cats Initiative, we've just managed to raise a lot of money for cheetahs, so we will have a lot of cheetah programs out there. We're not only looking at lions and leopards."
The Jouberts spend days upon end watching wildlife do its thing. They see the animals prosper and perish. Sometimes it's hard to watch and not intervene, says Beverly.
"It's heart-wrenching. On a daily basis it's heart-wrenching. So I don't know if we've got a certain personality. We have a concern of looking at the bigger picture and wanting to protect wildlife in general. And so it is wrong of us to believe that we are going to play God with nature. This has been happening for millions of years. What we're trying to do is show how unique and how similar, actually, wildlife is to us by doing that (observing) – and not interfering – even though it is heart-wrenching. Often Dereck and I will say that we're more emotionally drained than physically drained even though we're working 16 to 18 hours a day."
The two-hour premiere of the Joubert's documentary, "The Last Lions," airs Dec. 16.
The 50th anniversary edition of the classic film "To Kill a Mockingbird" will be released on Blu-ray and DVD Jan. 30. It's digitally remastered, enhanced with two documentaries and three hours of special features.
Before he died, Gregory Peck, who starred in the movie, told me it remained his favorite film. "If something affects (the audience) in a good way, it's because the emotions are real," he said. "They are exactly what they were. To make any sense about it, it's emotion. You draw on feelings. And you hope that produces the right expression. You recall the feelings from some past experience, or maybe just out of your imagination."
Ugly Betty is now a marine biologist – at least as far as "Sid the Science Kid" is concerned. The PBS Kids' show is featuring pert America Ferrera as Dr. Rosalinda Cordova, a marine biologist and mother of Sid's pal, Gabriela. She will instruct the children about different job possibilities in the world of science. The point is especially targeted to young girls who might like to become scientists when they grow up … The Game Show Network is lacing up its dancing shoes in a deal signed with ABC that permits the cable network to air Seasons 4 through 13 of "Dancing With the Stars" reruns beginning in January.
ABC's funny family comedy, "Last Man Standing," beat out "Glee" last week and hung in there as Tuesday's most watched comedy. The show, which stars former standup Tim Allen, continues to climb in popularity. Allen was so successful on "Home Improvement," he could have never worked another day in his life. But he's still an ordinary Joe who still likes to earn his keep.
"Yesterday somebody said, 'You're washing your own car?' I said, 'Yeah, just because I have success doesn't mean I'm stupid. I enjoy washing my car.' Many things are different, my choices are broader but most things are the same. You don't change essentially," he says.
"There are times when I go, 'God, I could just do ANYTHING. I could just live with gold faucets and stuff like that. But I think that's more or less (having) control of it. I've been out of control in so many things in my life, luckily spending is not one of them or gambling."
Article by: LUAINE LEE
For more information on this article you can follow these links: