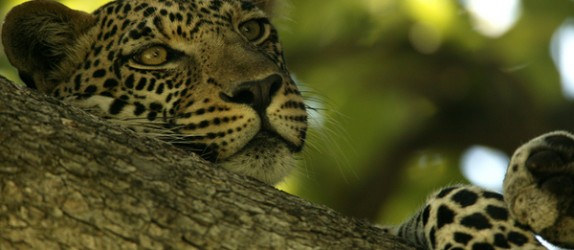 Motherhood always brings monumental responsibilities, but the challenges may be even greater for big cats in the wild as their ranks dwindle under threats to their habitat and lives.
Wildlife advocates take that message to the small screen this weekend to raise awareness of the dangers facing the world's dwindling population of leopards, cheetahs, and tigers. Filmmakers Dereck and Beverly Joubert feature two such animals in The Unlikely Leopard, the latest effort in National Geographic's push to "cause an uproar" over the worsening plight of big cats around the world. It premieres at 9 p.m. Sunday on Nat Geo WILD.
As viewers watch The Unlikely Leopard, which follows the trials of a mother leopard raising her male cub in the Botswana savannah, Beverly Joubert said she and her husband hope people are inspired by the leopards' individuality and character.
"Once people can get to know a leopard the way we do, the great individual character and personality, they'll understand why it's so important to protect these cats in Africa," she says.
Though conservationists have made global efforts to protect big cats, they still face stacked odds due to threats from habitat destruction and hunting.
Conflicts also arise when communities feel the animals threaten their livestock and their livelihood. On June 21, six lions in Kenya were killed after they strayed less than 10 miles from the border of Nairobi National Park, one of the most stringently protected wildlife reserves on the continent.
According to National Geographic and wild cat conservation organization Panthera:
Leopard numbers have slimmed from 750,000 to as few as 50,000 over the past 50 years.
Cheetahs have vanished from more than 75% of their natural habitat in Africa, including six countries they previously occupied.
The fewer than 3,500 remaining wild tigers are now outnumbered by those living in captivity.
Andrew Wetzler, co-director of land and wildlife at the environmental group Natural Resources Defense Council, said big cats are much more valuable than the price of their pelt or livestock saved by hunting them down. The carnivores maintain a fragile balance in their ecosystems.
"Their presence or absence really affects the entire natural community, from birds to plants and flowers, and even insect life," Wetzler says.
To help, Dereck Joubert says people can forgo fur clothing, donate to non-profit organizations and spread awareness.
"At this rate, we're going to see extinction of these fantastic jewels of the forest in the next 10 to 15 years," says Dereck Joubert. "We're gathering momentum, but we really do need an army of supporters or we will lose these cats."
Click on the link below: 
http://www.usatoday.com/video/index.htm?bctid=1732380954001
By Rebecca Lurye, USA TODAY